Hey
I am hoping JimDiablo could have a look at this. It would be nice to use the car manager for all the mod cars I have (around 200 of them).
I have a little problem when I run the car manager with certain mod cars installed. I am using mixer version 0.91.373.
I'm not sure if this is a big problem, seeing as it is a mod car, and NOT an EP/SP car.
What I'm finding is that if I have certain cars in the "Cars" folder, the car manager crashed when loading, and the whole mixer stops executing. This happens when the viv file is named "car.viv" and when it is named "--car.viv"
Here is the error I am getting, when the car manager is loading: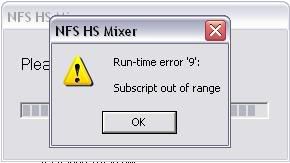 I have two cars that cause the mixer to do this, and I can email/PM them if needed.
Thanks,
unBtable